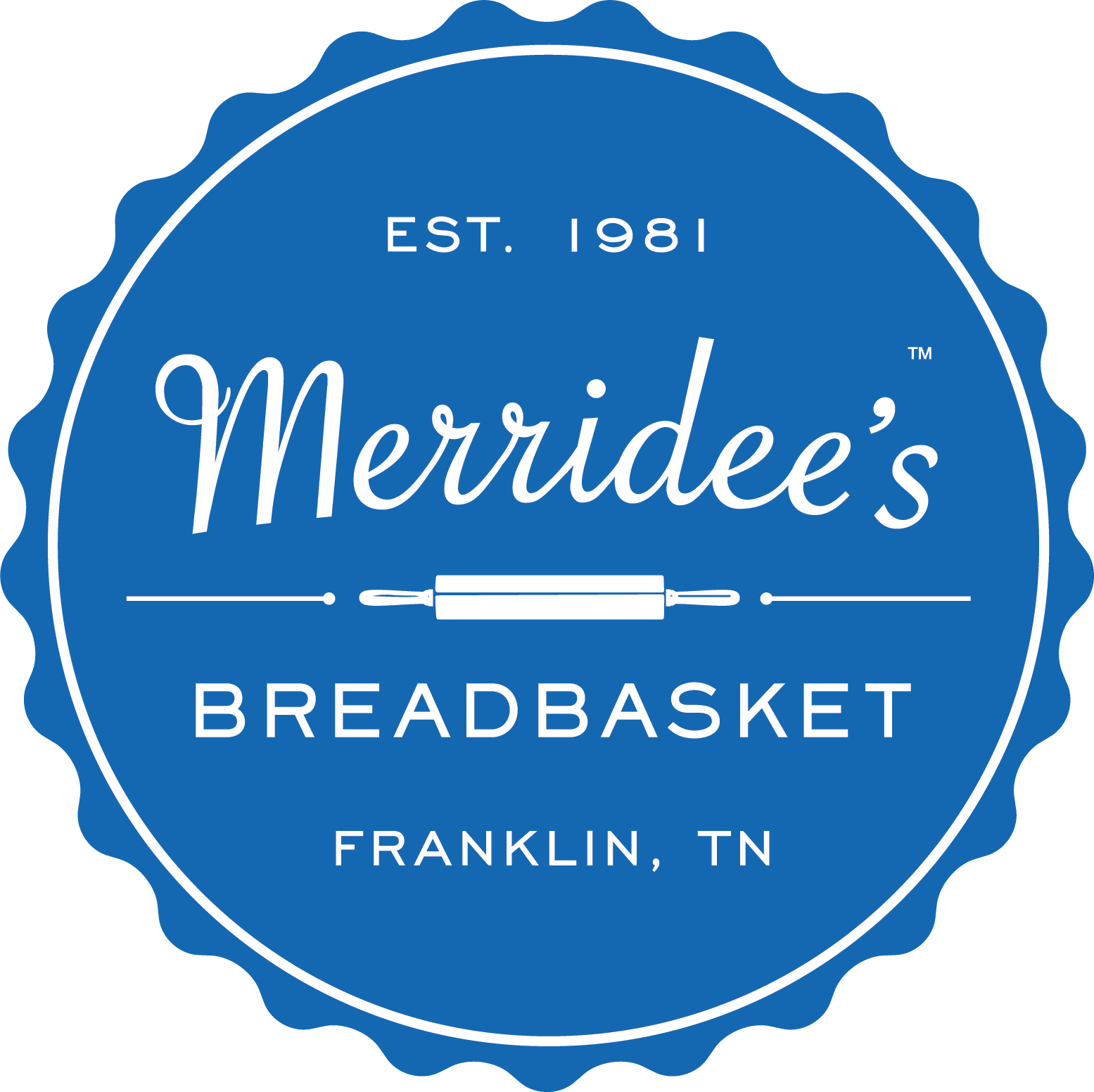 Order by Saturday, December 16
Our tradition at Merridee's is to make everything the old-fashioned way—you won't find any pre-made mixes in our bakery—just bags of flour, whole grains and sugar, flats of eggs, and cases of real creamery butter. With loving care, we transform these staples into the delicious pies, rolls, cookies, and sweetbreads you want to serve to the people around your table.
Holiday Hours:
We'll be open December 23 until 6:00 pm. Closed Christmas Eve. Reopening Wednesday, December 27 at 7:00 am.
Skip the Line: Order Pick-Up & Last Minute Goodies at the Merridee's Marketplace in the Atrium. The Marketplace will be open on December 22 and 23.
Cinnamon Roll Christmas Tree
 $17.59
Fun, decorative, and delicious! A Merridee's original. Serves 6-8.
Cherry Cream Cheese Candy Cane
  $17.89
Cherry filling and cream cheese braided into our egg dough, then shaped into a candy cane for a truly delicious treat. Serves 6-8.
Almond Ring
 $17.89
A pastry ring swirled with almond butter-cream and finished with sliced almonds, candies, and icing. Serves 6-8.
Swedish Tea Ring
  $22.95
Our delicious cinnamon raisin dessert ring with cardamom spice, cinnamon sugar, and pecans, topped with candies and icing — a beautiful presentation. Serves 8-10.
Caramel Pecan Round  $14.99
Our homemade egg bread buttered and rolled with cinnamon sugar, then baked with a caramel pecan topping. A Merridee's Classic! Serves 10.
Cinnamon Round  $11.95
Our homemade egg bread buttered and rolled with cinnamon sugar, baked into 10 cinnamon roll servings, and topped with icing. A Merridee's Classic!
Sweet Breads
  $13.49
Cranberry Nut Bread, Citrus Pound Cake, or Poppy Seed Bread.
Dinner Rolls
  $7.95
Silver Dollar Rolls (12 individual rolls)
Dinner Round (12 pull-apart rolls)
Cookie Box  $16.00
Chocolate Chip, Molasses, Snickerdoodle, Peanut Butter, Lingonberry, Oatmeal Raisin. Quantities of 12.
Tea Cake Box  $35.88
Quantities of 12.
Decorated Tea Cake Box  $15.95
4 cookies.
Decorated Tea Cake  $4.25
Cakes
Our handmade cakes alternate layers of moist cake with rich homemade frosting, creating a festive look that's (almost) too beautiful to eat.
Deep Dark Chocolate, Peppermint Chocolate, Red Velvet, Coconut
Our Famous Pies
  $23.59
Our made-from-scratch pies (yes, even the crust!) have become a holiday tradition.
Pecan Pie
Pumpkin Pie
Fudge Pie
Cherry Pie
Apple Streusel Pie
Chess Pie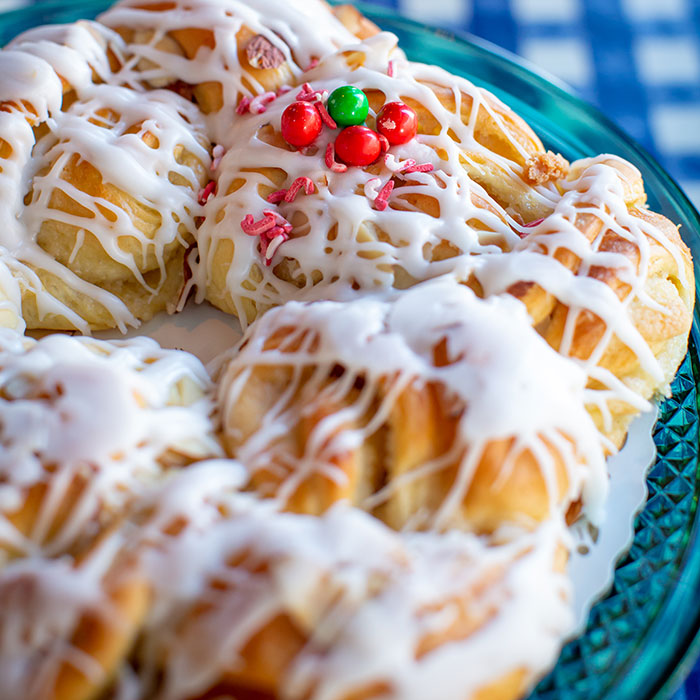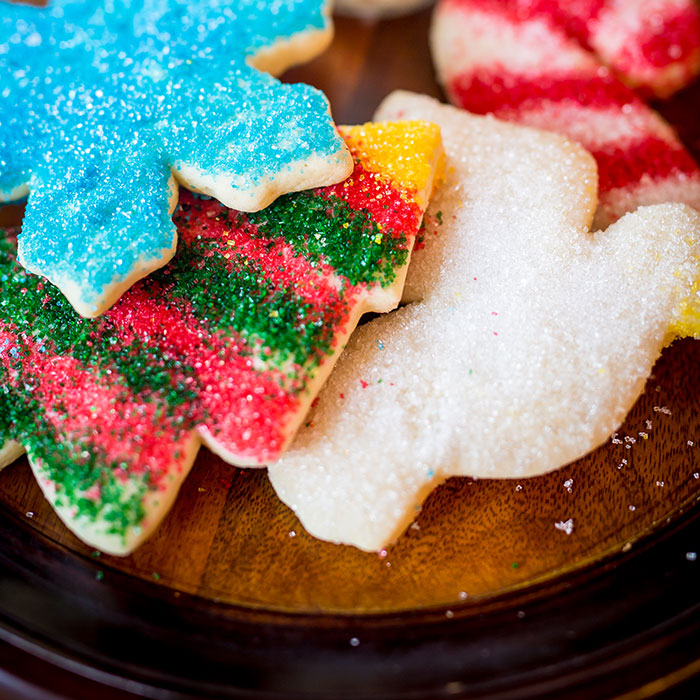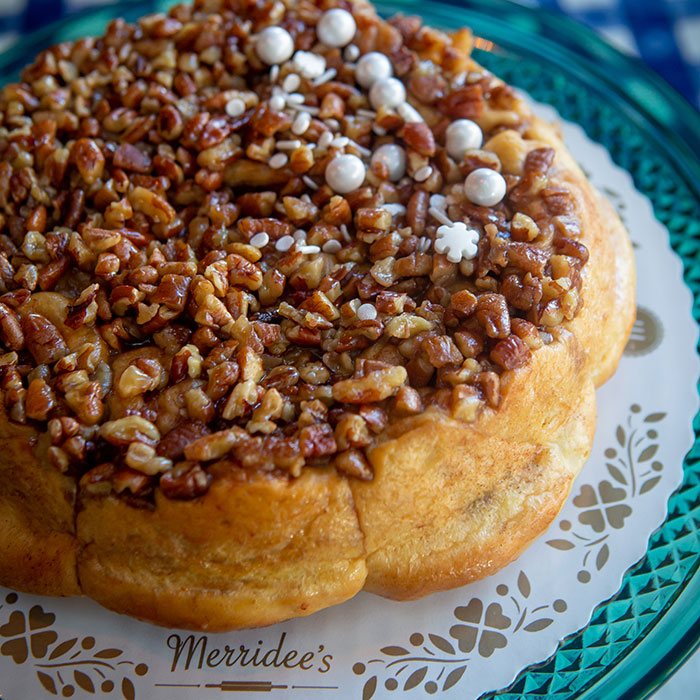 Restaurant and Bakery Hours
MON-THURS 7:00 AM - 5:00 PM
FRI-SAT 7:00 AM - 6:00 PM
110 Fourth Ave. South Franklin, TN 37064  615.790.3755
merridees.com